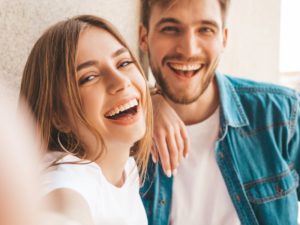 If you've made a New Year's resolution to get healthier this year, do you know how you're going to do it? Lot's of people set vague goals for themselves with no actionable ways to achieve them, so they give up on their resolutions by Spring. If you don't know how to begin improving your overall health, why not start with your smile? Great oral health has a major influence on your general wellbeing. Research shows that taking care of your teeth and gums can lower your blood pressure, reduce your risk of heart disease, and boost your immune system! So instead of trying to run five miles every morning, start enhancing your smile and your health with these practical New Year's resolutions from your dentist in St. Albans!
Get a Dental Checkup
No matter how long it's been since your last appointment, the New Year is a great time to start fresh with a dental checkup in St. Albans. Even if your teeth look and feel fine, you may have oral health issues that are progressing unnoticed. Your dentist can help you identify issues like tooth decay and gum disease as early as possible and minimize any lasting effects or discomfort. Committing to seeing your dentist twice a year is a habit that can help you keep your smile happy and healthy for years to come!
Stick to A Great Dental Routine
Although a professional teeth cleaning in St. Albans can remove all of the built-up plaque, tarter, and bacteria in your mouth, it's up to you to keep your pearly whites bright between visits. One of the best ways you can improve your life this year is to create a great dental routine and use it daily. Brush your teeth twice a day for two full minutes and floss once a day to continuously clear out that harmful bacteria.
Try Smile-Friendly Snacking
Sugary treats are bad for both your oral health and your waistline. Not only does a sugar-filled diet increase your risk of cavities, but it also encourages gum disease, which is the leading cause of tooth loss in America! Try munching on smile-friendly foods that can strengthen your teeth and protect your gums instead. Snacking on options like fish, cheese, and broccoli will make your mouth and your stomach happier and healthier!
Quit Bad Chewing Habits
The New Year is a great time to put a stop to bad habits. Do you chew on your fingernails, pen caps, or ice? These hard items can wear down your enamel and weaken your teeth, making them susceptible to chips and cracks. Try chewing sugarless gum, using a stress ball, or meditating to safely express your feelings without hurting your teeth.
This year start some healthy habits that can benefit you for the rest of your life. You can use these easy New Year's resolutions for your oral health to get the happy, healthy smile you've always wanted!
About the Practice
At St. Albans Dental, you don't have to drive all over St. Albans City, VT to get the dental care you need. Our highly experienced team of dentists are trained in a variety of specialties in order to meet all your dental needs under one roof. We would love to help you keep your smile healthy and happy all year long with our thorough, efficient, and comfortable dental checkups. If you'd like to know more about taking care of your smile, we can be reached via our website or at (802) 524-4844.