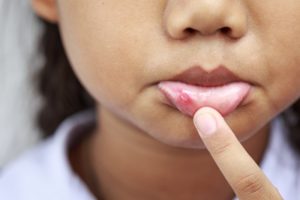 Canker sores can happen to anyone, no matter their age. Not only are these uncomfortable to live with, but they can also spread and get bigger, especially if they're left untreated. In certain cases, these sores may need a prescribed treatment from your dentist in St. Albans in order for them to completely go away. Read on to learn more about how canker sores develop and when it's time for you to seek care from a professional.
What are Canker Sores?
Canker sores are famously noted by surrounding red and inflamed skin. They can cause a variety of uncomfortable symptoms and can sometimes be similar in appearance as pimples when they first develop. Here are some signs that you may have a canker sore:
A red bump that develops into an ulcer
A single bump or a group of bumps
An ulcer with a white or yellow center
A sore that heals within two weeks without scarring
While most of these are symptoms of common types of canker sores, more serious ones can exhibit signs such as a fever or a large cluster of sores. No matter the case, it's always a good idea to get them checked out by a professional if they bother you.
How do Canker Sores Develop?
Anybody can get a canker sore, but simple sores most commonly occur in people between the ages of 10 and 20 years old. Here are the top five reasons why you may develop this type of oral sore:
B-12 vitamin deficiency
Calcium deficiency
Stress or an oral injury
Citrus fruits can make simple canker sores more severe
Poor immune system
If you're at a high risk of experiencing stress-induced canker sores or possess any of the qualities listed above, it's a good idea to adjust your nutrition intake and avoid foods and activity that could make your canker sores worse.
When Should You Visit a Dentist For Canker Sore Treatment?
Typically, treating a canker sore doesn't involve medical attention from your dentist unless your symptoms don't go away, you're experiencing distracting discomfort, or your sore only gets worse. Over-the-counter medications like microbial rinses and anesthetics can typically help soothe your symptoms and help the sore heal. However, if your situation is more serious, your dentist in St. Albans may need to prescribe a special corticosteroid ointment or highly effective mouth rinse to get rid of the problem for good.
Canker sores can be uncomfortable to deal with, but with the right nutrition and timely treatment, you can keep them from becoming even bigger and more serious. Plus, when you seek treatment from your dentist in St. Albans, you can rest-assured that your canker sore will be taken care of in no time, as long as you follow their instructions diligently.
About the Author
Dr. Tyler Aten completed a general practice residency after earning his doctorate. He takes pride in continuing his education, which allows him to provide the best quality of dental care to his patients. He has completed additional IV and oral sedation training as well as comprehensive/cosmetic training. For questions or to schedule an appointment to have a canker sore examined and treated, visit St. Albans Dental's website or call 802-524-4844.