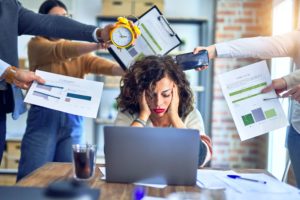 According to the American Institute of Stress, 77 percent of people in the nation experience stress that impacts their physical health. The human body is deeply connected, so when something like stress becomes a daily feeling, it's important to address the issue before it begins wearing down on you. Anxiety, worry, and stress have all been known to impact your teeth and gums as well, which is often the last place that people would think to look for signs of stress. Read on to learn more about the different ways that stress can harm your oral health from your emergency dentist in St. Albans.
Nail Biting
Most people have bitten their nails at one point in their life, whether they were stressed of scared. You may not know that this bad habit can have serious consequences in terms of the health of your teeth and gums. Some of these include:
Germs that transfer from underneath your fingernails to your mouth can cause infections.
Bacteria and viruses are often transmitted from your hands to your mucous membrane when you put your hands near your mouth.
Warts can spread from your hands to your mouth.
Even though it's a hard habit to break, you can cut them short so there's nothing to chew on, wear hands or gloves when you know you'll be tempted, or even coat them with a bitter or bad-tasting spray to ween yourself off of nail-biting.
Canker Sores
If you regularly get mouth ulcers or canker sores, these typically occur due to a lack of vitamin B or extreme stress levels. While there's no proven way that you can stop them from occurring, it's a good idea to avoid acidic, hard, and crunchy foods until it goes away, because these can irritate the sore and make it uncomfortable to live with.
TMJ Disorder & Teeth Grinding
TMJ disorder is a condition that impacts the area where your jawbone connects to your skull. In many cases, it develops from teeth grinding which is caused by stress and can cause tension in the facial muscles and pain. When you overuse your jaw and constantly grind and clench your teeth, it will not only erode your enamel, but you may find yourself with a broken tooth at your dentist in St. Albans.
Gum Infection
Long-term stress that isn't addressed can impact your immune system and its ability to fight off infections, including gum infections. When harmful oral bacteria are left to accumulate in the mouth, they can cause cavities, gum disease, and bad breath. If your immune system is weakened, it will be harder for your body to naturally prevent these issues from occurring.
Although stress doesn't sound like an issue that will impact your overall wellbeing, it definitely is. That's why it's important to remain cautious of how your mental health is affecting your body, so you can get issues such as gum infections and TMJ disorder addressed before they cause permanent oral damage. As long as you're diligent about keeping an eye out for these issues, you can enjoy your smile for a lifetime.
About the Author
Dr. Simran Saini enjoys helping her patients feel more confident about the health and appearance of their smiles. That's why she offers high-quality comprehensive dental care and has completed advanced education courses specializing in treatments such as sleep apnea therapy. She is also a current member of professional organizations, including the American Dental Association and the Vermont Dental Association. For questions or to schedule an appointment, visit St. Albans Dental's website or call 802-524-4844.