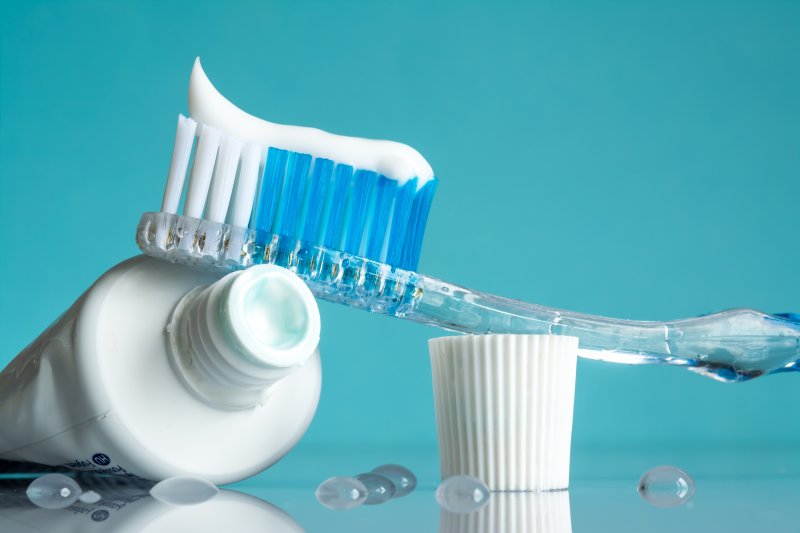 Did you know Pharaohs back in ancient Egypt used toothpaste? According to the experts, evidence points to a mixture of powdered rock and vinegar being used to scrub their teeth clean. Fortunately, toothpaste has come a long way since then. Today, you can walk into your local store and choose from different brands, specialties, and prices to find your perfect one. But how does it really work? Your dentist in St. Albans is here to share five important elements of toothpaste that help keep your teeth in pristine condition.
Abrasives
Detergents, like calcium carbonate and alumina, play a crucial role in keeping your smile looking polished and white. As its name suggests, they are abrasive components that remove stains and plaque that can build up on the surface of your teeth. However, they are also gentle enough to preserve your enamel. That way, you can enjoy a beautiful, bright smile for years to come!
Foaming Agents
Detergents, like sodium lauryl sulphate, cause the foaming action in your toothpaste. While many use the foam to help visualize where they have and haven't brushed, it does more than just that. In fact, the detergents are vital in dislodging debris, plaque, and bacteria from your teeth.
Humectants
To prevent your toothpaste from drying out, ingredients like glycerin are added in. While humectants play a crucial role in retaining moisture, they also keep the texture firm enough to cling to your brush and stay on your teeth.
Preservatives
Preservatives are crucial in toothpaste. After all, how often do you go through the entire tube in one sitting? Therefore, preservatives are added to prevent the growth of bacteria so your toothpaste can remain effective and safe from start to finish.
Flavoring
To encourage people to practice proper oral hygiene, flavoring is added to the toothpaste. Traditionally, flavors like mint and peppermint were the only options available. However, patients today can choose from flavors like cinnamon-clove and peach!
For centuries, toothpaste has been tweaked and perfected to create the products we know and love today. Thanks to the above five ingredients, your teeth can get the thorough cleaning they need all in one tube!
About the Practice
Led by Dr. Tyler Aten, Dr. Simran Saini, and Dr. Mose Snyder, the team at St. Albans Dental is fully committed to providing their patients with high-quality, world-class care. Whether you need a routine checkup or an advanced dental service, each member of the staff is ready to help with friendly, compassionate care. If you are looking for the best dentist for you and your family, don't hesitate to contact them through their website or via phone at 802-524-4844.