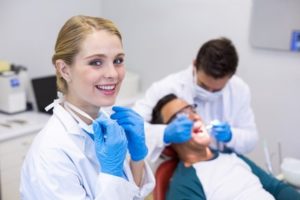 They clean your teeth, take your X-rays and provide guidance on proper oral hygiene, but what else does a dental hygienist do? You know their position is essential to keeping your dentist in St. Albans sane, but their role in the dental office is much more important than you may know. Keep reading to find out what your dental hygienist does to help preserve your smile.
Prepare for Patients
Dental hygienists are usually the first friendly face you'll see when you enter the dentist's office. Preparing the examination room and reviewing a patient's chart are usually at the tops of their list when getting ready to welcome a patient. Understanding what their needs may be and their medical history before they enter the dental chair helps hygienists create a personalized experience for each patient.
Dental Examinations
Before the dentist meets with the patient, the hygienist will take a quick look at their teeth to determine the condition of their overall health. They look for signs of tooth decay and gum disease. If it's been a while since their last visit, the hygienist will also take X-rays and impressions. The findings from this exam will be reported to the dentist before they meet with the patient themselves.
Treatments
In addition to examinations, X-rays and impressions, a hygienist cleans a patient's teeth, removing stains, plaque and tarter and polishes them. They also apply fluoride treatments and sealants to protect teeth. Root planing and scaling (a deep cleaning below the gumline used to treat gum disease) is another aspect of their job.
Oral Hygiene Education
It can be surprising how many people have never learned how to properly care for their teeth. This can be evident in the condition of their oral health. Other patients may have a fear of visiting the dentist, which keeps them from getting their teeth cleaned regularly. Hygienists help to put patients at ease and teach them the best practices for dental care at home, including proper brushing and flossing techniques.
Hygienists are typically compassionate people who possess interpersonal and manual dexterity skills and pay close attention to detail. They do much more than just buff and clean teeth all day; they are a critical part of every patient's dental care.
About the Practice
The team of dentists at St. Albans Dental offer years of experience and advanced training to meet any dental need. The professional dental team of hygienists, a dental assistant and office manager all aim to make each patient feel comfortable the moment they enter the office. From routine oral exams and cleanings to cosmetic dentistry and more, St. Albans Dental is happy to help you achieve the smile you've always wanted. If it's time for your semi-annual dental cleaning or you'd like to know more about additional services, visit the website or contact the office at (802) 524-4844.