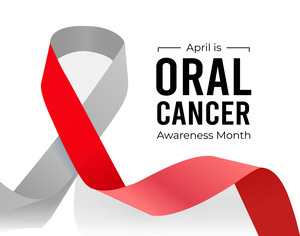 Oral cancer is a dangerous disease that causes one death every hour on average, but compared to other forms of cancer it doesn't get discussed as often. That's why, as part of Oral Cancer Awareness Month in April, your dentist recommends learning more about this life-threatening health issue. Below is a summary of common symptoms and risk factors of oral cancer as well as why it's best to have it detected as early as possible.
Symptoms That Point to Oral Cancer
First of all, it's important to note that there are two major types of oral cancers: those of the oral cavity (meaning the inside of your mouth) and those of the oropharynx (meaning the middle part of your throat). The symptoms associated with your oral cancer can vary depending on where it's located.
Warning signs of cancers of the oral cavity include mouth sores that don't heal, discolored soft tissues, unusual lumps or hard spots, areas that bleed easily when touched, and odd growths.
Meanwhile, common symptoms of cancers of the oropharynx include hoarseness, a persistent sore throat, a swollen tonsil on one side, a lump that you can feel on the outside of your neck, having a hard time swallowing, and one-sided earaches.
If you experience any of the symptoms above and notice that they don't subside after two weeks, it's recommended that you call your dentist immediately.
Risk Factors for Oral Cancer
Certain groups of people are more likely to develop oral cancer than others, such as:
Those that smoke or chew tobacco.
Those that drink a lot of alcohol.
Those that have HPV (human papillomavirus).
Those over the age of 55.
Additionally, oral cancer tends to affect men more often than women. However, there are cases of oral cancer developing in patients even in the absence of known risk factors, so everyone needs to keep an eye out for abnormalities that could point toward this deadly disease.
Why Early Detection is Important
On a global scale, the five-year survival rate for people with oral cancer is roughly 50%. When it comes to the individual, however, the prognosis tends to be much better for those who have the disease caught while it's localized. This makes it extremely important to have a diagnosis made as soon as any concerning symptoms are identified.
A good way to ensure that oral cancer is caught as quickly as possible is to visit your dentist. While they're checking for signs of tooth decay, they can also look for oral cancer symptoms. If they find any, they can let you know right away and help you figure out what steps to take next.
About the Practice
At St. Albans Dental, our experts are able to meet virtually any dental need thanks to their combined years of experience and their wide range of skills. Our practice welcomes patients of all ages. We're fully dedicated to helping people protect their oral and overall health by keeping an eye out for cavities, gum disease, and oral cancer. To schedule a consultation at our office, visit our website or call (802) 524-4844.