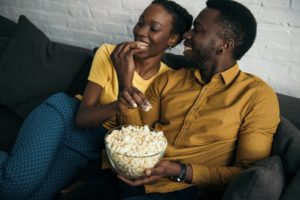 These days, more and more of us are consuming our favorite TV shows in one sitting. You may as well not even use the Internet until you finish the season, lest you get a major plot twist spoiled for you. After a long binge-watch, you probably think to yourself about how all of that sitting isn't good for you. But did you know that binge-watching can also negatively impact your oral health? According to a dentist in St. Albans, constantly snacking can seriously damage your teeth. Here are how some of the most common binge-watching foods and drinks affect your mouth.
Popcorn
Nothing beats snuggling up on the couch with a captivating TV show and a bowl of popcorn. Just be sure to pay attention to what you're eating. If you're not careful, you could accidentally bite down hard on a stray kernel. Not only is this extremely painful, but it could chip or crack your teeth as well as restorations like crowns or veneers.
Additionally, popcorn husks can get stuck between your teeth. If they remain there for too long, they can attract bacteria that contribute to gum disease and tooth decay. To prevent this, thoroughly floss after you're done with your popcorn.
Takeout
Sometimes you get so wrapped up in your show that you order takeout instead of cooking. While this is fine in moderation, many of these foods are rich in processed sugars. Eating too much of them can increase your risk of cavities. Pressing pause for a minute to cook your own meals can not only improve your oral health, but save you money.
Soda
Many kinds of soda have extremely high amounts of sugar. However, even diet sodas aren't great for your teeth. They're incredibly acidic. Over time, this can wear down your tooth enamel and lead to painful sensitivity. If you want to enjoy a fizzy drink without harming your pearly whites, switch your soda out for a sugar-free, non-acidic seltzer.
Wine
Red wine is notorious for leaving behind unsightly stains on your teeth. Both red and white wine, however, are much more acidic than you might think. This acidity can erode your white enamel, exposing more of the yellowish layer of dentin underneath it. To keep your smile nice and bright, brush your teeth after a glass of wine. Just be sure to wait at least 30 minutes so your teeth have a chance to remineralize after being exposed to the wine's acid.
There's nothing wrong with a good binge-watching session every once in a while. However, be mindful of the foods and drinks you're consuming. When in doubt, you can always ask your dentist in St. Albans for some mouth-healthy snack suggestions!
About the Practice
At St. Albans Dental, we prioritize on-time appointments and comprehensive care. Each of our three dentists brings their own unique skill set to our practice. We strive to educate our patients on maintaining excellent at-home oral care, and that includes adhering to a tooth-friendly diet. For advice on what you should eat or drink during your next binge-watch, visit our website or call us at 802-524-4844.