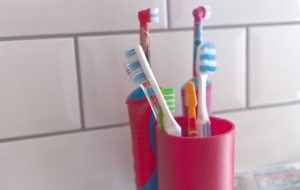 Springtime is finally upon us, and with warmer weather and a little extra free time on your hands, you might be hoping to get some spring cleaning done this season! But instead of cleaning out your garage or tidying up your closet, have you thought about giving some attention to your smile? Your pearly whites can also benefit greatly from sprucing up your oral hygiene routine! Here are a few tips from your dentist to help you do this.
Tip #1. Update Your Toothbrush
Now that winter is over, it's the perfect opportunity to inspect your toothbrush for signs of wear; ideally, your brush should have fresh, soft bristles, rather than rough or frayed bristles, so if your brush head looks worn out, it's time to pick up a replacement. You should aim to regularly replace your toothbrush every 3 or 4 months. It's also worth mentioning that if you've been sick recently, you should exchange your toothbrush for a new one.
Bonus tip: Electric toothbrushes are also worth your consideration, as they've been proven to clean more effectively than their traditional counterparts.
Tip #2. Clean Your Toothbrush Holder (and Other Bathroom Surfaces)
Believe it or not, your toothbrush holder might not be as clean as you think it is—in fact, it's exposed to all the germs and bacteria that are present in your bathroom! These bacteria can easily be transmitted to your toothbrush, which will increase the likelihood of you encountering oral health issues. Be sure that you're frequently sanitizing all of your bathroom surfaces, including the place where you store your brush.
Tip #3. Check Expiration Dates
Many dental hygiene products have expiration dates, just like the milk or butter that's sitting in your fridge! And these expiration dates are there for a reason; using an expired tube of toothpaste or mouthwash can cause you all sorts of problems and possibly make you very ill. It's always in your best interest to check the packaging of a product before using it, and if you're ever unsure about something, ask your dentist for confirmation!
Tip #4. Schedule a Dental Checkup
Even if you take great care of your pearly whites at home and dedicate your spring-cleaning effort to your smile, it's still wise to schedule a dental checkup. Simply put, your dentist can provide a detailed level of care that you simply cannot carry out at home! This involves scraping away built-up plaque and tartar, polishing your teeth, and of course, inspecting your oral structures for underlying issues. Your dentist is also an incredible resource for all things pertaining to your smile, which will grant you access to the knowledge you need to keep your teeth looking their best moving forward.
About the Practice
The team at St. Albans Dental is honored to serve patients and families in the St Albans City, VT community! The practice is fortunate to house three skilled specialists: Dr. Tyler Aten, Dr. Miriam Keliddar, and Dr. Kelsey Cone. They work together to provide an elite level of dental care that'll allow you to achieve optimal oral health coupled with a beautiful smile you'll love showing off! If you have any questions about the blog or you'd like to arrange a visit for you or a loved one, feel free to contact the practice online or over the phone for further assistance: (802) 347-6168.