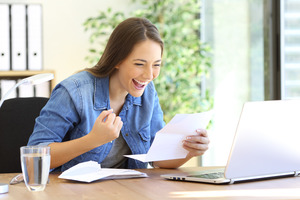 Are you getting a refund on your taxes this year? If so, you should think about what you want to do with the money. Saving it is always a viable option, of course, but you could also use it to pay for things that might be tricky to fit into your budget otherwise. There are plenty of smart ways to use your tax refund dollars, and one particularly good option is to put the money toward dental treatments to protect or improve your smile.
Why Should You Spend Your Tax Refund on Dental Care?
Some people avoid the dentist until they need treatment, but this is not the ideal approach for your oral health or your wallet. Oftentimes, tooth decay and other dental issues don't have obvious symptoms until they have reached their more advanced stages. By the time you realize something is wrong on your own, you may already be suffering from a severe, costly-to-treat problem that could have been avoided or dealt with earlier.
It's better to take a preventive approach when it comes to dental care. As such, it's generally worth paying for regular checkups and cleanings to keep your smile safe. And if there are any issues in your mouth, it will likely be less expensive to have them treated while they're small. Your tax refund can go a long way toward making these necessary treatments more affordable.
What Kinds of Dental Treatments Can Your Tax Refund Help Pay For?
Once you have decided to invest in your smile with your tax refund, the next question to answer is: what kind of service should you use it for? Here are a few suggestions:
Biannual Dental Checkups: Is it almost time for your next preventive dental appointment? The extra money from your tax refund could help you pay for it.
Any Dental Care You Might Need: You shouldn't wait too long to have fillings or crowns placed, and your tax refund can make it easier to have these restorations placed without putting too much strain on your budget.
Cosmetic Treatments: If you would like to enhance the appearance of your grin, consider using your tax refund for veneers, teeth whitening, and other cosmetic procedures.
Orthodontics: Orthodontic treatments like Invisalign can be costly, but your tax refund can make taking the first step easier.
Your dentist can give you further insight regarding the kinds of treatments that might be worth paying for. Feel free to ask if they have any recommendations so that you can figure out the best way to utilize your tax refund dollars.
About the Practice
At St. Albans Dental, we offer everything from routine preventive appointments to advanced restorative procedures to dazzling cosmetic treatments. All of our services are personalized according to the needs of each patient. To make our care more affordable, we accept various insurance plans and offer financing via CareCredit. To learn more about the services we offer, visit our website or call (802) 524-4844.