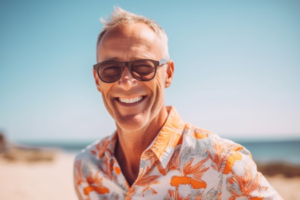 Summertime is finally here, and you've probably got a lot of fun things scheduled for you and your loved ones! But whether you're planning a trip to the beach, a vacation to another country, or just time away from home in general, you should want to have peace of mind knowing that your oral health is in great shape and there is nothing you'll have to worry about. With that in mind, here are a few useful tips from your dentist that can help you keep your smile looking and feeling its best throughout your summer plans.
Tip #1. Don't Go Anywhere Without the Essentials
If you're planning a trip somewhere this summer, you don't want to neglect your smile while you're gone. Before you leave, ensure that you've packed a dental kit with everything you'll need to care for your pearly whites while away from home. This doesn't have to be anything super fancy or expensive, but you should at least include the bare essentials: a travel-sized toothbrush, toothpaste, mouthwash, dental floss, and if you have oral appliances like braces, dental wax and over-the-counter pain relievers. These items can easily fit in a suitcase, backpack, or purse, meaning that no matter where you are or what you're doing, your smile is covered! You might also include a card with the name of a local emergency dentist, just to be safe.
Tip #2. Skip the Soda and Drink Plenty of Water
There are few things in this world as refreshing as an ice-cold soda or glass of lemonade on a hot summer day, but unfortunately, these items and other similar treats that are staples this time of year aren't great for your teeth. Instead, you should be sure that you're staying hydrated by drinking a lot of water instead—it's by far the best beverage for your body and oral health, as it stimulates your flow of saliva, which is your first line of defense against cavity-causing bacteria. Tap water also often has fluoride added to it, which greatly benefits your enamel.
Tip #3. See Your Dentist Before Heading Out
You should be visiting your dentist twice a year anyway for preventive care, and summertime conveniently falls halfway through the year—making it the perfect opportunity to stop by for a checkup and cleaning before your vacation (or staycation). These visits essentially guarantee that your smile is in the absolute best shape, meaning you're much less likely to endure a dental emergency that'll ruin your plans. Plus, if you're dissatisfied with the state of your smile due to some type of aesthetic issue, your dentist might also be able to offer some type of cosmetic or restorative service capable of getting your teeth picture-ready for all of your fun in the sun!
About the Practice
The talented team at St. Albans Dental has proudly served the dental needs of the St. Albans City, VT area for several years. They offer a wide variety of services that are certain to help you and your loved ones achieve dazzling bright and healthy smiles just in time for the summer season. If you have any questions about the blog or inquiries about the services offered by their practice, feel free to contact them online or by phone for additional information: (802) 524-4844.