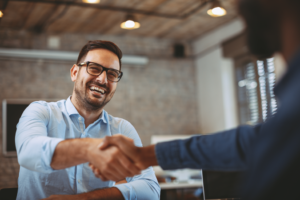 Your smile is perhaps the biggest asset at your disposal when it comes to mastering the art of making good first impressions—but it's not the only thing you can leverage to your advantage! Your pearly whites carry a lot of weight, but so do several other things you do and the qualities you display. Here are five useful tips from your dentist that you should keep in mind to make the most of every social situation.
1. Eye Contact Is Key
Maintaining eye contact with someone is a sign of mutual respect, and though it might seem intimidating at first, it gets easier with practice. When you greet someone, don't hesitate to hold eye contact for an extra second or two; it can make certain situations friendlier, and hostile or awkward situations less daunting!
2. Use Open Body Language
Your back will thank you later in life if you practice good posture early on—but also, good posture benefits your social interactions! Strive to stand tall and keep your gaze horizontal when talking to people. Also, angle yourself towards those you're engaging with, and refrain from tilting your head too far back or forward—it might make you seem arrogant or insecure.
3. Avoid Covering Up
Covering up your face can send a lot of signals that make you seem uncomfortable or insecure, so avoid frequently wearing things like sunglasses, hoodies, big scarves, or other accessories that cover up your face. People tend to get uncomfortable if they can't see someone's eyes or their face, so try to put strangers at ease by showing your true face—and it never hurts to smile, either!
4. Don't Feign Interest
When you're chatting with people, it goes a long way to show authentic interest in what they're talking about, as well as just their lives in general. Don't hesitate to make a positive comment or remark every once in a while, and when you show interest, be sure you're sincere with your inquiries—ask about their family, weekend plans, or upcoming birthdays. Just don't pry too much, but rather, make a concentrated effort to listen and bring up things someone has previously mentioned before; that way, they'll naturally gravitate toward you!
About the Practice
St. Albans Dental has proudly served families in the St Albans, VT area for several years under the leadership of Dr. Tyler Aten, Dr. Miriam Keliddar, Dr. Kelsey Cone, and their incredible dental team! If you have any questions about the article or you'd like to schedule a visit for you or a loved one, feel free to contact the practice online or over the phone for additional information or assistance. Telephone: (802) 347-6168.