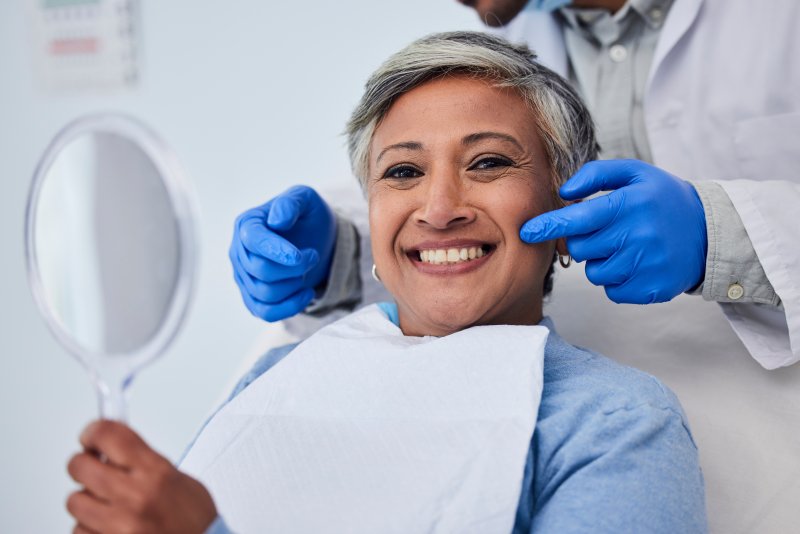 Do you feel like you're racing against the clock? When it comes to the state of your teeth, you don't have to be in a rush. A healthy, youthful smile is the key to a great first impression no matter your age. However, as you grow older, your teeth will yellow and get worn down no matter how meticulous your dental hygiene routine might be. If you're worried about your smile, you might want to consider cosmetic dentistry. You can still maintain your signature grin for years to come! Here are 4 ways cosmetic dentistry helps your smile stay youthful.
1. Repairing Multiple Dental Imperfections with Veneers
If you have developed damaged, worn, cracked, chipped, and/or minorly misaligned teeth over the years, you can get your youth back in three visits or less! Veneers can restore your confidence and let you customize your smile however you want by altering the size, shape, and color of your teeth all at the same time. Your veneers are designed to blend into your natural teeth and will have your smile looking good as new.
2. Cosmetic Dental Bonding for a Quick but Long-Lasting Fix!
Maybe you have just one minor flaw in your smile and don't want to spend a lot of money and time to fix it. If that's the case, consider cosmetic dental bonding. The whole procedure only takes about an hour, but the results can easily last for more than a decade. Restoring your damaged or worn teeth helps turn back the clock on your smile.
3. Teeth Whitening Treatments to Keep Your Pearly Whites
Even if you brush, floss, and use mouthwash thoroughly twice a day for your entire life, your teeth will still become discolored due to age. However, they don't have to stay that way! Your dentist can professionally whiten your teeth and restore your youthful glow.
You may have seen whitening strips or other products at the store, but if you're looking for quality results that last a long time, your dentist is always the best option. Additionally, store-bought whitening products can actually damage your smile. If you choose the professional route, you can safely brighten your teeth as much as 8-10 shades. These results will also last much longer than what you can buy over-the-counter.
4. Metal-Free Dental Crowns for That Seamless Look
If you have a damaged or decayed tooth but don't want the unnatural look of gold or silver crowns in your mouth, there are metal-free alternatives available. You can get an all-porcelain crown, inlay, or onlay that matches your natural enamel for years to come in just one treatment. You'll get back your pearly whites, and no one will be the wiser!
About the Practice
At St. Albans Dental, your dentists are committed to helping you achieve all your smile goals at your convenience and comfort. The practice offers a variety of cosmetic dentistry services to help you restore the functionality and appearance of your teeth, such as veneers, Opalescence® teeth whitening, cosmetic dental bonding, and metal-free dental restorations. If you're ready for a smile makeover to give your pearly whites a second life, contact St. Albans Dental through their website or by phone at (802) 524-4844.